80 Ton Cutting Sheet Machine Hydraulic Press Brake (MM-AHKA3280)
November 21, 2020
Model NO.: MM-AHKA3280

Type for Pipe and Tube Bending Machine: Hydraulic Press Brake

Condition: New

Product Type: Hydraulic Press Brake

Control Type: Hydraulic Control

Pressure Force: 80 Tons

Working Length: 3200 Mm

Distance Between Uprights: 2600 Mm

Throat Depth: 320 Mm

Slide Stroke: 120 Mm

Main Motor: 5500W Powerful Motor

Packing Size: 3700 X 2300 X 2380 Mm

Gross Weight: 6300 Kgs

Trademark: Maxnovo Machine or OEM

Specification: High Precision

Origin: China

HS Code: 8458990000

Model NO.: MM-AHKA3280

Type for Pipe and Tube Bending Machine: Hydraulic Press Brake

Condition: New

Product Type: Hydraulic Press Brake

Control Type: Hydraulic Control

Pressure Force: 80 Tons

Working Length: 3200 Mm

Distance Between Uprights: 2600 Mm

Throat Depth: 320 Mm

Slide Stroke: 120 Mm

Main Motor: 5500W Powerful Motor

Packing Size: 3700 X 2300 X 2380 Mm

Gross Weight: 6300 Kgs

Trademark: Maxnovo Machine or OEM

Specification: High Precision

Origin: China

HS Code: 8458990000

Such kind of MM-AHK A 3280 high duty hydraulic sheet metal press brake / Hydraulic Press Brake / Cutting Machine which is been made in ISO9001 factory from MAXNOVO MACHINE with CE Safety Certification. Such hydraulic press brakes have powerful ability to supply the 80 Ton Pressure Force to bend brake 3200mm length sheet. It is built to withstand the rigors of everyday use and is built to last. This Hhydraulic press brake machine is great for doing multiple bends over the entire length of the press brake. 

80 Tons Pressure Force Cutting Sheet Metal Machine of Hydraulic Press Brake 

Main  Feature :   

Convincing Arguments: Quality, Efficiency and Price   

-Hydraulic crowning control ensure high manufacturing quality

-Digital indicators for rear and depth stops

-Powerful bending accuracy even for bend long length steel

-The frame is made of solid steel weldment for overhead mounting

-The hydraulic press brake of this series are manufactured in standardized bulk series to ensure solid quality and significant cost savings

-Extremely user-friendly, proportional valves for work pressure and for the hydraulic table crowning can be controlled directly via the control panel

-Large torsion shaft guarantees synchronism between hydraulic cylinders

-All major machining parameters can be set and adjusted centrally on the control panel to save time and effort

-Motors and hydraulic components from renown manufacturers guarantee high machining quality and high reliability

-Fulfills highest safety standards with custom safety equipment

-Certificate of Original (CO, FORM A, FORM E, FORM F )Â 

 

Technical Data :Â  Â 

     
Product  Name :
Heavy Duty 80 Ton Pressure Force Hydraulic Press Brake
Product   Item :
MM-AHK A 2563
MM-AHK A3263
MM-AHK A2580
MM-AHK A3280
Control Type :
Hydraulic
Hydraulic
Hydraulic
Hydraulic
Pressure Force :
63 Ton
63 Ton
80 Ton
80 Ton
Nominal Pressure :
630 Kn
630 Kn
800 Kn
800 Kn
Working Table Length :
2500 mm
3200 mm
2500 mm
3200 mm
Distance between Uprights :
2050 mm
2600 mm
2050 mm
2600 mm
Throat Depth :
250 mm
300 mm
320 mm
320 mm
Slide Stroke :
120 mm
120 mm
120 mm
120 mm
Max. Opening Height :
360 mm
360 mm
360 mm
360 mm
Main Motor :
5500W
5500W
5500W
5500W
Bending Speed :
9.5 mm/s
9.5 mm/s
9 mm/s
9 mm/s
Electrical Connection:
Three Phase Industry 400V Voltage
Connecting  Frequency :
50HZ or 60HZ
Gross Weight :
4600 KGS
5900 KGS
5200 KGS
6300 KGS
Packing Size:
3050X 2250 X 2380 mm ; Â Â Â Â Â Â Â 3700 X 2300 X 2380 mm
 

 

  

As a professional manufacturer factory, We have full sincerity to look for good distributor, wholesaler or agent in your country to cooperate with us to enlarge business share together. Please visit our company website (www.maxnovomachine.com) to send enquiry to us to get direct factory best competitive price immediately, it is only for you !   

Important  Remark :   

Before you enquiry, please make sure you must have the ability to do "Customs Clearance " when purchased products delivery into your local sea port in your country.  Disqualified Private customers are not been acceptable. 

 

FAQ :Â 

1.Question : Are you a factory or trading company ? 

Answer: We are an SGS recognized OEM/ODM manufacturer factory with export license. We have an outstanding and experienced team made up of "A" player who have a passion for doing something great to create more value for customers world-wide.

 

 

2. Question :  Why choose cooperate with us ? 

Answer : Â -Right people, Right product, Right price ;

                 -Company-wide customer awareness ; 

                 -Reliable Quality and All components from world leading suppliers ;

                 -Cost-effective export infrastructure and total supply chain management ;

 

3. Question :Â  Can you do OEM ?

Answer : Â Yes, we have the ability to do OEM / ODM to meet clients' requirements.

 

4 Question :  How can I get some product samples ? 

Answer : We are honored to offer you good product samples. New clients are expected to pay for the product sample cost and the international transportation cost. Product Sample cost would be deducted from the customers' next mass production purchase order in future. Â Â 

 

5. Question : How does your factory do regarding quality control ? Â Â 

Answer : Assuring Quality is our dignity and quality control engineers specially be responsible for quality checking in each process such as Incoming Quality Control , In Process Quality Control , Outgoing Quality Control , Environment Control, Product Traceability System , Internal Audits & Calibration, Equipment Control & Maintenance , Control of Non-Conforming Materials and etc. 

 

 

6. Question : What is the average delivery time ? 

Answer : Most of the time, it would be around 1 week since after confirm receiving customers' contract money. For mass production purchase order at big quantity, the delivery time could be discussed with each other case by case. 

Such kind of MM-AHK A 3280 high duty hydraulic sheet metal press brake / Hydraulic Press Brake / Cutting Machine which is been made in ISO9001 factory from MAXNOVO MACHINE with CE Safety Certification. Such hydraulic press brakes have powerful ability to supply the 80 Ton Pressure Force to bend brake 3200mm length sheet. It is built to withstand the rigors of everyday use and is built to last. This Hhydraulic press brake machine is great for doing multiple bends over the entire length of the press brake. 

80 Tons Pressure Force Cutting Sheet Metal Machine of Hydraulic Press Brake 

Main  Feature :   

Convincing Arguments: Quality, Efficiency and Price   

-Hydraulic crowning control ensure high manufacturing quality

-Digital indicators for rear and depth stops

-Powerful bending accuracy even for bend long length steel

-The frame is made of solid steel weldment for overhead mounting

-The hydraulic press brake of this series are manufactured in standardized bulk series to ensure solid quality and significant cost savings

-Extremely user-friendly, proportional valves for work pressure and for the hydraulic table crowning can be controlled directly via the control panel

-Large torsion shaft guarantees synchronism between hydraulic cylinders

-All major machining parameters can be set and adjusted centrally on the control panel to save time and effort

-Motors and hydraulic components from renown manufacturers guarantee high machining quality and high reliability

-Fulfills highest safety standards with custom safety equipment

-Certificate of Original (CO, FORM A, FORM E, FORM F )Â 

 

Technical Data :Â  Â 

     
Product  Name :
Heavy Duty 80 Ton Pressure Force Hydraulic Press Brake
Product   Item :
MM-AHK A 2563
MM-AHK A3263
MM-AHK A2580
MM-AHK A3280
Control Type :
Hydraulic
Hydraulic
Hydraulic
Hydraulic
Pressure Force :
63 Ton
63 Ton
80 Ton
80 Ton
Nominal Pressure :
630 Kn
630 Kn
800 Kn
800 Kn
Working Table Length :
2500 mm
3200 mm
2500 mm
3200 mm
Distance between Uprights :
2050 mm
2600 mm
2050 mm
2600 mm
Throat Depth :
250 mm
300 mm
320 mm
320 mm
Slide Stroke :
120 mm
120 mm
120 mm
120 mm
Max. Opening Height :
360 mm
360 mm
360 mm
360 mm
Main Motor :
5500W
5500W
5500W
5500W
Bending Speed :
9.5 mm/s
9.5 mm/s
9 mm/s
9 mm/s
Electrical Connection:
Three Phase Industry 400V Voltage
Connecting  Frequency :
50HZ or 60HZ
Gross Weight :
4600 KGS
5900 KGS
5200 KGS
6300 KGS
Packing Size:
3050X 2250 X 2380 mm ; Â Â Â Â Â Â Â 3700 X 2300 X 2380 mm
 

 

  

As a professional manufacturer factory, We have full sincerity to look for good distributor, wholesaler or agent in your country to cooperate with us to enlarge business share together. Please visit our company website (www.maxnovomachine.com) to send enquiry to us to get direct factory best competitive price immediately, it is only for you !   

Important  Remark :   

Before you enquiry, please make sure you must have the ability to do "Customs Clearance " when purchased products delivery into your local sea port in your country.  Disqualified Private customers are not been acceptable. 

 

FAQ :Â 

1.Question : Are you a factory or trading company ? 

Answer: We are an SGS recognized OEM/ODM manufacturer factory with export license. We have an outstanding and experienced team made up of "A" player who have a passion for doing something great to create more value for customers world-wide.

 

 

2. Question :  Why choose cooperate with us ? 

Answer : Â -Right people, Right product, Right price ;

                 -Company-wide customer awareness ; 

                 -Reliable Quality and All components from world leading suppliers ;

                 -Cost-effective export infrastructure and total supply chain management ;

 

3. Question :Â  Can you do OEM ?

Answer : Â Yes, we have the ability to do OEM / ODM to meet clients' requirements.

 

4 Question :  How can I get some product samples ? 

Answer : We are honored to offer you good product samples. New clients are expected to pay for the product sample cost and the international transportation cost. Product Sample cost would be deducted from the customers' next mass production purchase order in future. Â Â 

 

5. Question : How does your factory do regarding quality control ? Â Â 

Answer : Assuring Quality is our dignity and quality control engineers specially be responsible for quality checking in each process such as Incoming Quality Control , In Process Quality Control , Outgoing Quality Control , Environment Control, Product Traceability System , Internal Audits & Calibration, Equipment Control & Maintenance , Control of Non-Conforming Materials and etc. 

 

 

6. Question : What is the average delivery time ? 

Answer : Most of the time, it would be around 1 week since after confirm receiving customers' contract money. For mass production purchase order at big quantity, the delivery time could be discussed with each other case by case. 

Fins are the basic components of plate&Bar Heat Exchanger, on which heat transfer to be finished depends. Main fins: offset fin, straight fin, perforated fin, louvered fin, corrugated fin. Our fin engineers have the most professional and enriched experience with more than 10 years to design and produce all kinds of fins forming moulds. We supply all kinds of fins, fin forming moulds, Fin Forming Machines.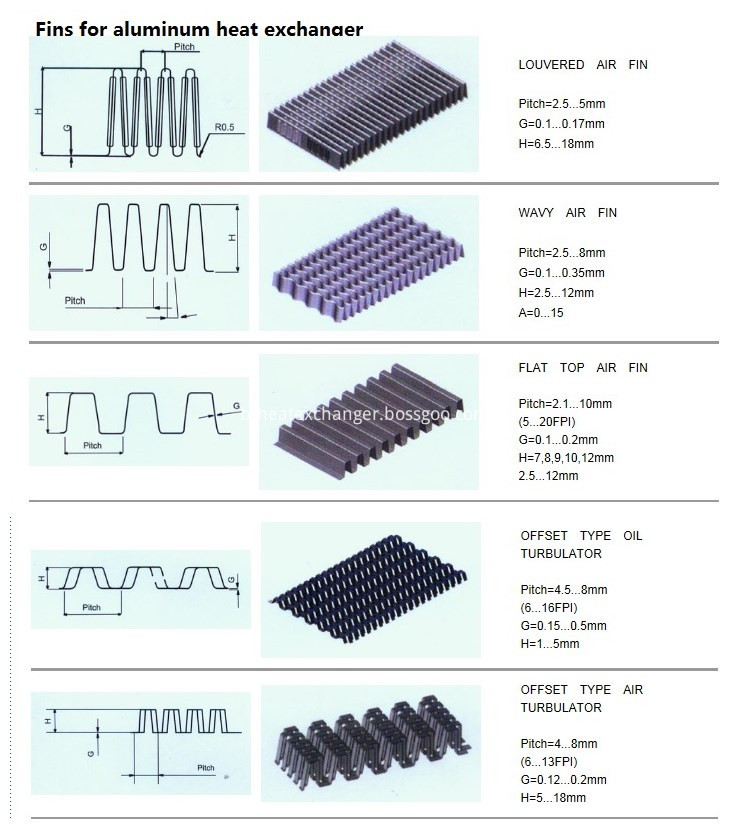 Aluminum Fin Tube,Aluminum Cooler Fins, Folded Fin, Aluminum Fin, Copper Fins, SS Fins, Fin Forming Molds, Heat Exchanger Parts

Wuxi Better Technology Co., Ltd , https://www.btheatexchanger.com