Black PTFE Conveyor Belt
July 20, 2018
Model NO.: 6008 6012 6014 6001

Structure (for Chain): Roller Chain

Usage: Transmission Chain, Transportation Chain, Dedica

Color: Solid Color

Trademark: youngsun

Transport Package: Carton

Specification: 4mm*4mm 1mm*1mm 2mm*2.5mm

Origin: Taixing

HS Code: 70195900

Description:

Youngsun select fine glassfiber or Kevlar as basic weaving material, coated with excellent PTFE resin to make it into various PTFE open mesh conveyor belts

Properties:

1. High temperature resistance- It Can continuously work under-140 to 320, max resist high temperature up to 360.

2. Permeability- It can avoid wasting heat and improve drying efficiency for it's permeability.

3. Chemical resistance- It can resist all most of chemical medicines. 0

4. Non Stick- It can easily remove all kinds of adhesives such as resin, paint and chemical

Medicine, easy to clean.

1. Good flex fatigue resistance- It has high tensile strength and excellent flex fatigue

Resistance. It's better for small wheels.
Model
Mesh Size
Material
Thickness
Weight
Temp Resistance
Max Width
Tensile Strength
YS-6001
1x1mm
 fiberglass
0.5mm
370g/m²
-70~320
4000mm
310/290N/cm
YS-6002
2x2mm
fiberglass
0.7mm
450g/m²
-70~320
4000mm
350/310N/cm
YS-6003
4x4mm
fiberglass
1.0mm
400g/m²
-70~320
4000mm
390/320N/cm
YS-6004
4x4mm
fiberglass
1.0mm
450g/m²
-70~320
4000mm
390/320N/cm
YS-6007
4x4mm
fiberglass
+kevlar
1.2mm
600g/m²
-70~320
4000mm
895/370N/cm
YS-6008
4x4mm
fiberglass
1.0mm
500g/m²
-70~320
4000mm
395/370N/cm
YS-6010
4x4mm
Kevlar
1.0mm
500g/m²
-70~320
4000mm
900/600N/cm
YS-6012
4x4mm
fiberglass
1.0mm
550g/m²
-70~320
4000mm
395/370N/cm
YS-6013
10x10mm
fiberglass
1.2mm
450g/m²
-70~320
4000mm
360/300N/cm
YS-6014
0.5x1mm
fiberglass
0.5mm
420g/m²
-70~320
4000mm
310/290N/cm
YS-6015
2x2.5mm
fiberglass
0.9mm
600g/m²
-70~320
3000mm
390/320N/cm
  Different Edging Choices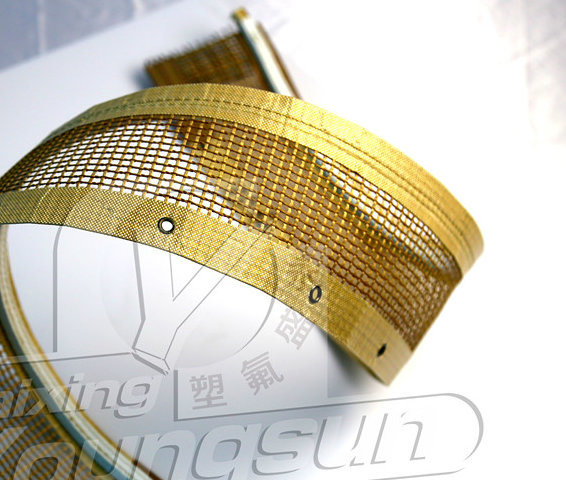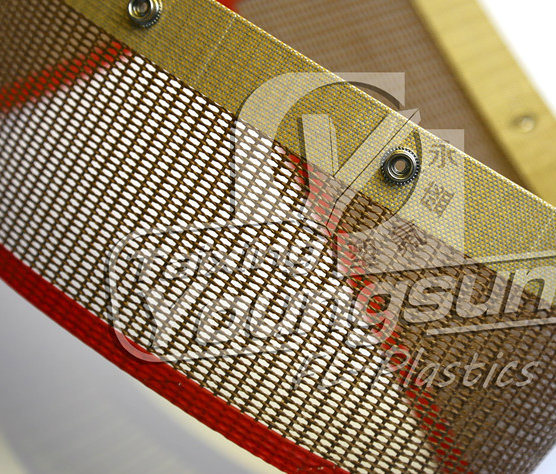 PTFE Glassfiber Edge Protector                PTFE Coated Kevlar Edge Protector

Different Joint Choices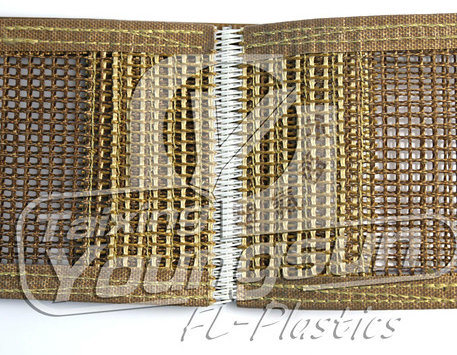 Spiral Joints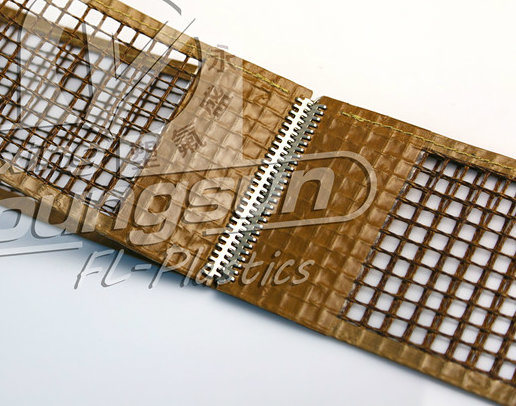 Alligator Joints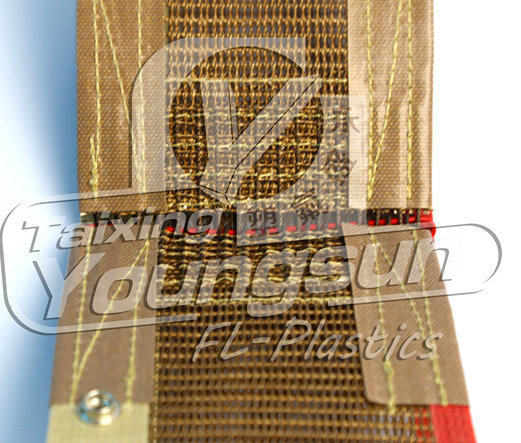 Bullnose Joints