Vivoxplay3s parameters and evaluation
May 06, 2019
On December 18, 2013, China's famous mobile phone manufacturer vivo (a brand owned by backgammon) released a new generation of flagship large-screen mobile phones at the Beijing Water Cube. Vivo Xplay3S is the world's first mobile phone with a 2560×1440 2k resolution touch screen. And equipped with Qualcomm Xiaolong 801AB version of the processor, plus 3200 mAh large battery. Running vivo's new system for Android's deep customization Funtouch OS brings more user-friendly designs. And vivo also comes with new features, such as fingerprint recognition, better HI-FI and so on.

Basic parameters:
Operating System: Funtouch OS (deep customization based on Android 4.3)
Processor: Qualcomm Snapdragon 801AB 2.3GHz Quad Core (Qualcomm Snapdragon MSM8974AB)
Memory 3GB RAM + 32GB ROM (does not support expansion)
Dimensions:
Shape: Straight size: 158.2*82.59*8.68mm
Weight: 174g
Battery: 3200mAh (non-removable)
screen display:
Screen size: 6 inches Resolution: 2560*1440 pixels (490ppi)
Display material: Quad HD display touch screen: capacitive multi-touch

Network parameters:
2G GSM850/900/1800/1900
3G (WCDMA/TD) WCDMA: 2100MHz/1900MHz/850MZ
TD-SCDMA: 1880-1920 MHz/2010-2025 MHz
4G-LTE TDD-LTE (B38/B39/B40), FDD-LTE (B3/B7)
Built-in application:
Social mobile phone QQ, Sina Weibo, WeChat map navigation high German map, high German navigation information NetEase news, Phoenix news, e-book other Baidu music, Sohu video, music video, Thunder look, Baidu search, QQ mobile housekeeping, vivo flash Pass, UC browser, where, Lynx, Taobao digital camera:
Camera pixel 1300W (main) / 500W 84° wide angle (front)
Auto Focus Support Aperture Main F1.8/Sub F2.4
The flash supports shooting mode single shot / continuous shooting / HDR / beauty mode video:
Play format mp4, AVI, 3GP, MKV
Playback quality 3840×2160, frame rate 30FPS
Recording format MP4, 3GP
Music and sound:
Music Player AAC, AAC+, AMR, MIDI, OGG, FLAC, WMA, WAV, APE, MP3
MP3 Ringtones Support Recording Support Ringtones 64 Chord Hi-Fi Support

More features:
Gravity Sensor Supports Photo Sensors Supports Proximity Sensors Supports Gyroscopes Supports Hands-Free Calls Supports Cloud Services Supports FM Radios Connectivity is not supported:
WiFi support Wi-Fi/WAPI
Bluetooth Support Bluetooth 4.0
USB USB 2.0
GPS Positioning Supports NFC Support OTG Support

Xplay3s is the most configured machine under the vivo brand, equipped with a 2.3GHz Qualcomm Snapdragon 801 (MSM8974AB) processor, and also uses a 6-inch 2K screen (resolution 2560*1440, 490ppi, adding "Butterfly line processing technology") , Also built-in 3GB of running memory and 32GB system memory, support dual 4G LTE network. The camera also uses the current mainstream flagship most commonly used 500 million front +1300 W rear camera, battery capacity of 3200mAh. Xplay3s uses a metal material, the thickness of the fuselage edges 4.5mm, its weight 174g, the back of the fuselage is equipped with fingerprint identification can unlock fingerprints, file encryption, sliding pictures and so on. Xplay supports "DTS Headphone", it is reported that ordinary headphones can support up to 11.1 channels.

The latest news is that the vivo XPlay3S, known as the strongest domestic machine in history, was officially released on the evening of December 18, 2013 at the Water Cube. It not only brings unprecedented visual enjoyment to us, but also brings unprecedented hearing and shocking effects. The X-ray sound field system built by us has brought us a real Hi-Fi video and audio experience.
Vivo Xplay3S is powered by the Headphone Cinema sound field system jointly developed by vivo, DTS, and Qualcomm for the first time. Wearing a headset, Xplay3S will actually restore 7.1 or even 11.1 multi-channel cinema sound field effects. Surround sound around the front and back, so that your viewing as immersive as immersive.
2K's video is hard to find on the PC platform, so this VIVO and Thunder will cooperate with Thunder's high-definition, ultra-clear resources for high-speed viewing. Enjoy the visual feast of video and audio. Not only that, vivo will cooperate with Thunder in depth, and all those who purchase Xplay3S will enjoy the free one-year Thunder to see VIP member services. Built with nearly 200 DTS Headphone X movies, over 400 1080P ultra-clear movies and more than 1000 720P HD movies to bring you the ultimate audio and video experience anytime, anywhere.
Faced with such a shocking mobile video configuration, would you suspect that this is just a smart phone?
VIVO released this flagship model in late 2013 and made a loud noise for mobile phones in 2014. Will mobile phone technology continue to enter the era of higher technology in 2014?

Double Trapezoidal Roll Forming Machine means the two layers are all trapezoidal. But the peak height or peak separation is not same, or the width of materials is different. We can make it according to your requirements. And the blade can be adjusted, so that you can produce the color steel panel of different width.

And we can equip the safety guard with the machine as the following picture. safety guard roll forming machine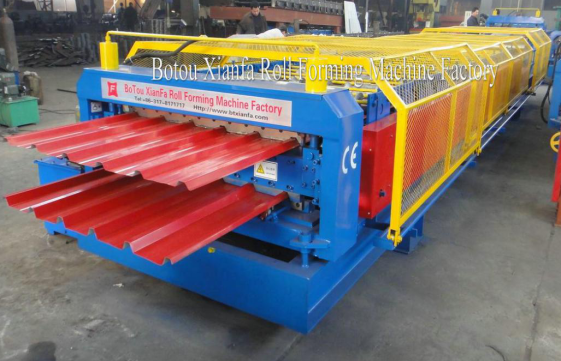 Double Trapezoidal Roll Forming Machine

IBR Double Deck Making Machine,Ibr Double Layer Roll Forming Machine,Ibr Panel Wall Double Deck Roll Forming Machine,IBR Panel Roof Double Deck Roll Forming Machine

Xianfa Roll Forming Machine Factory , http://www.btxianfa.com